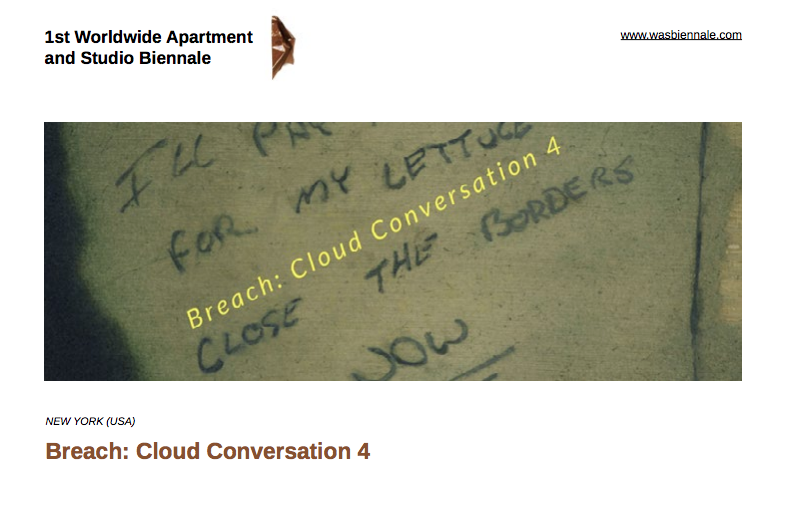 First ever WAS Biennial juried international exhibition in which artists show their works in either their studios or live spaces.
Cloud Conversation 4: Breach a part of the 1st Worldwide Apartment and Studio Biennale. There will be an Artist talk between myself and Turkish performance artist Gözde Kirksekiz , moderated by artist/curator Anne Murray creator of Cloud Conversations, on November 6th.
Reception: 28 Oct. 2016. 6:00pm – 9:00pm
Duration: 21 Oct. 2016 – 20 Nov. 2016
Artist talk: 6 Nov. 2016, noon (NYC time)
Opening hours:
Thu, Fri 6:00pm – 9:00pm
Sat 12:00 – 5:00pm
Address:
6 Bay Street, Brooklyn NY 11231, USA
Call for entrance to studio 347 844 0200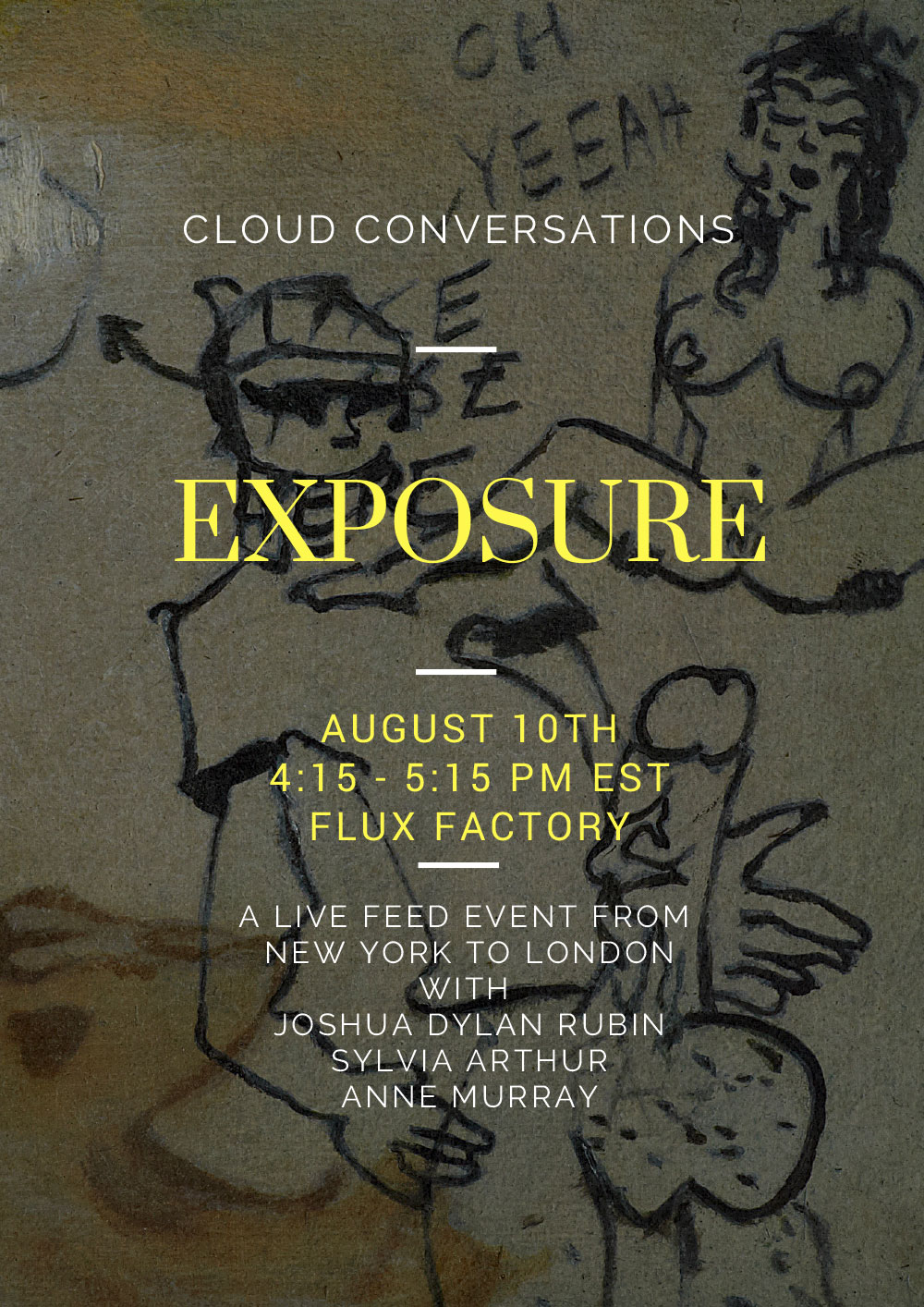 Cloud Conversation is a project that brings together the voices, thoughts, and artistic manifestations of artists, writers, and performers from around the world and is curated by Anne Murray. This event is part of the "3459" show, a collaboration between Relapse Collective and curator Emireth Herrera.
On August 10th at Flux Factory in NYC (4:15-5:15pm), and Tom's Etching Studio in London (9:15-10:15pm), there will be a virtual dialogue with a live feed to each gallery between painter Joshua Dylan Rubin and writer Sylvia Arthur, which will explore what it means to be on the receiving end of concealed/revealed hate, while the curator, Anne Murray, will make commentary on the importance of artistic dialogue in the development of public awareness in relation to these themes and will moderate discussion. Exposure is an interrogation of the private and public selves, of what lies just beneath the surface and what's hidden deep within from the perspectives of those who express their private thoughts in a public forum (Rubin) versus those who are impacted by those publicly expressed thoughts in a private way (Arthur).
Live Feed Event from London to New York:
Flux Factory, August 10th 4:15pm – 5:15pm EST
39-31 29th St., Long Island City, NY11101
Gallery Opening:
NEW YORK, Flux Factory, Opening August 10th, 6pm – 9pm
39-31 29th St., Long Island City, NY11101
LONDON, Tom's Etching Studio, Opening August 10th, 8pm – 11pm
5th Floor, 9 Queen's Yard, E9 5EN
Exposure: Cloud Conversation 1
This audio is a dialogue between artist Joshua Dylan Rubin, writer Sylvia Arthur, and artist and curator of Cloud Conversations Anne Murray. This conversation took place from Tom's Etching Studio in London to Flux Factory in New York City as part of the 3459 show organized by Emireth Herrera and RELAPSE collective on August 10th, 2016. Cloud Conversations is a curatorial project bringing together artists of different disciplines from around the world in conversation to stimulate ideas and change the world.